Yes , you can light filtrate milk, AseptoRay demonstrated its capabilities in cow milk, goat milk and other dairy product.
The main advantage of using light filtration in milk, is the fact that you do not need to work at high pasteurization temperatures, and you keep your product natural ingredient almost intact.
Currently, the majority of the regulatory bodies require milk to be heated to 75° C (167° F). However, in order to increase the shelf life of products, companies typically heats the milk to 125 ° C (257 ° F). Using AseptoRay's solution, companies can heat the milk to the required 75° C (167°) and then re-pasteurize using light filtration. The result will be a:
Significant energy saving heating 50° C/ 90° F less.
Healthier milk Since the milk is heated to a lower temperature, it preserves significantly higher
levels of immunological proteins and vitamins while maintaining a natural flavor.
Reduce cholesterol– scientific work has demonstrate the reduction of cholesterol and converting it to vitamin D
Higher shelf life AseptoRay can target heat resistant spores (i.e. Bacillus cereus spores)
There is also a demand for AseptoRay's technology in Third World countries.
The technology is ideal for regions that suffer from rapid milk spoilage due to inadequate or non-existent pasteurization.
AseptoRay has tailored solutions in India, African countries and remote areas around the world that suffer from rapid milk spoilage.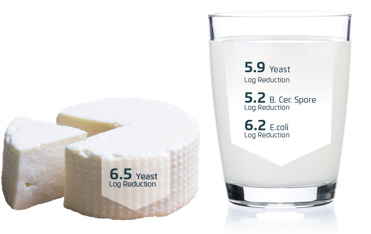 Cow milk, Brine